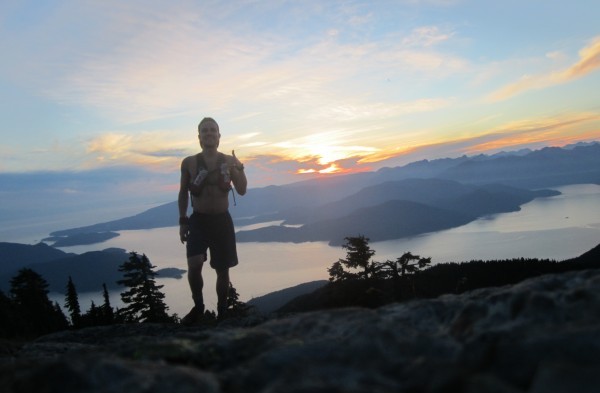 On September 1 I run 50 miles of unforgiving mountainous terrain in Whistler. There's a paradox for me in doing crazy things like this lately – I'm terrified, but I can't keep myself away.
This race is called Meet Your Maker. It cruises around Whistler  before going literally straight up Blackcomb mountain, then across the peak 2 peak in a gondola, and straight down Whistler, couple more loops and bam, you've done 50 miles. Upwards of 12,500 feet of elevation gain and loss through what should be a long day of, among other things… self-discovery.
To put this elevation in perspective, my first ultramarathon entailed around 6000 feet of climbing, and it was a tad uncomfortable at times. I also just found out that this run had about a 50% completion rate among solo runners in 2012.
Regardless, there's an itch to keep pushing. I'm drawn by the purity of running through the mountains, there's no rules, no constraints.
You can run on your terms, and simply enjoy the moment — for however long that is.
There's no pressure to perform. For that hour (or several), you are truly free. Free from the stresses of bills, rent, life.
I liken running to meditation
Running entails a different context but brings about a similar state as to when I meditate.
My breathing becomes methodical and controlled, I focus on the present, and notice every bodily sensation.
There's more sensory information to think about, but largely your mind is on cruise control, and you are free to entertain the randomness of your thoughts.
People tend to see running as boring, but this is because we generalize what we don't know. I assume opera to be boring, but I've never actually been to the opera… it could be riveting for all I know.
What I've found about running is that it is the only time I can turn my mind off and just… be.
We all want fulfillment
What differs is how we express these desires.
I'm searching for the answer as to how far can I push my body. With this next ultramarathon, the question of 'can I do this?' drifts in and out of my thoughts
I like trying difficult things because of the unknown it brings. I fear the unknown but am drawn to it because I'm confident that I can conquer it.
That is not to say I'm confident that I'll enjoy every one of those 50 hilly miles on Sept 1, for some, conquering is about completion and absolution.
I'm ready for the pain, the emotions, and the discovery, because I'm fortunate to be able to try such extreme physical feats.
I love the ability to travel great distances on my own power and appreciate every aspect of the journey from preparation to execution on race day.
That day, nothing else matters but testing my spirit. It'll be a day of conflicting emotions, from joy to suffrage and pain.
I'll take each state as they come, and remember that there are people who face struggles that pale in comparison to mine.