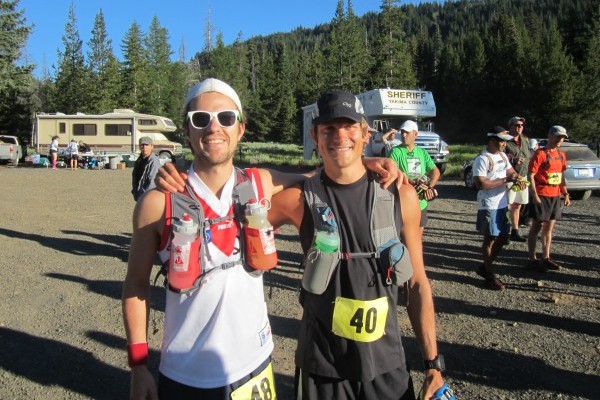 Days after the most epic adventure of my life I'm inspired by one thing: the potential of the human body.
Saturday brought a different kind of introspection. When you're stripped down to the components of your being, your self, you realize what is important.
I pushed my body to a foreign place on Saturday at Grey Rock, and I'm amazed at how it continues to respond. I moved further and faster than I ever have through the rocky, hilly terrain.
The trail dished out punishment, but my legs almost welcomed the challenge (and the pain). With that, here's a report from my first ultramarathon.
Carving through the Ahtanum State Forest for 45 minutes on a gravel road let us know we were in 'the bush.' No cell service, no infrastructure…  Chris (the only other person crazy enough to do something like this) and I shrugged it off with a laugh.
You really do start slow
After a quick check-in and pre-race pep talk, we were off! We fell into formation on a single track trail laced with switchbacks for about 5 km.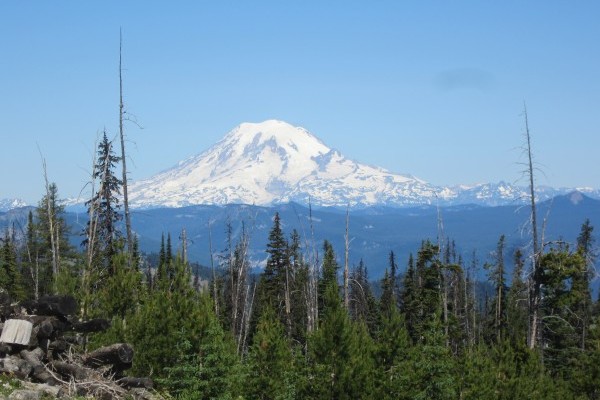 I stuck with a pack of five for the climb before two peeled off infront and behind. The top greeted us with an amazing view of the snow-capped Mount Rainier. I thought to myself how my favourite cheap beer is produced on that snowy peak.
Post-climb, we cruised down a lengthy, steep descent into a valley. We bombed it, but I tried my best to disperse the impact to my glutes in order to save my quads a bit for later in the run.
I had quad problems after a long descent during my marathon, so this was something constantly on my mind.
Knowing the course is a 25 km out and back, I vividly recall thinking to myself "man this is going to be a bitch to climb later on."
Alas, the descent lead to the first aid station. This is where my competitive instincts kicked in. I wanted a quick turn around.
I fumbled with my water bottles, but managed to fill them up, ate a ton of food (peanut butter filled pretzels? Giddyup!), and set off for climb numero dos.
A Different Mentality
This was the longest climb of the day – about 12 km up 2400 feet to the top of a beautifully situated ridge at 6600 feet of elevation.
The nature of ultrarunning is such where you can't run everything. This is a bit of a mental adjustment for me, giving I've never practiced 'hiking' or anything close to it. Apparently you just walk… for an extended period of time.

Nonetheless, the trail gets so steep that running is not only counterproductive in terms of energy output, but it is also barely quicker than a more efficient power hike.
So our crew of three prodded up and up, finally reaching the second aid station at the 25km turn-around point.
The views were truly breathtaking — 360 degrees of chiseled mountains extending to the horizon. I remember being jealous of the aid station volunteers who got to the views from atop the ridge all day.
I also realized that we were in 4th place. Shocker.
My eyes immediately fixated on the peanut butter sandwiches. It's funny how, when you're stripped down, it is the simplest of things which bring enjoyment.
I destroyed a PB&J, and some juicy watermelon – cracked a few bad jokes to the friendly aid stationers, relieved myself on a nearby tree, and was on my way back down (bringing a second PB&J for the road of course).
The descent back to the bottom of the valley was where the pain started to set in. A few callouses-turned-blisters and more ankle roles and catch-myself-stumbles than I care to remember.
But, we hit the final aid station still in our pod of three. The volunteers asked my name and I told replied with a grin: "David Hasselhoff." I think this confirmed I was in good spirits and not severely dehydrated.
Going primal on the final climb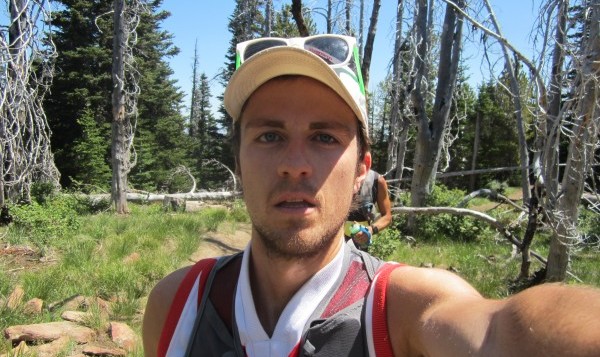 After stuffing my face with a banana, more peanut butter filled pretzels and M&Ms by the handful, my outlook shifted on the final climb.
Upon learning that the 2nd and 3rd place runners were 7 and 10 minutes ahead, I surged forward with my two compatriots, ready to tackle the same gnarly climb that took us about 45 minutes to bomb down hours earlier.

The climb sucked – lots of power hiking, water sipping, and grunting. Nothing pretty about this hour and a half as sweat poured down and my head got a tad foggy, but we grinded it out.
I was straddling this line between contentment and competition. It was a longshot to catch anyone, but I didn't care, I wanted to win and needed to try.
So we continued up this brutal ridge, while I kept the thought in the back of my mind of catching one.
I was in hunting mode and I loved it.
We kept pushing the pace, I led for sections, then Chris led. Our tank emptying, but something kept us moving, step by step.
I ran out of time
My addictive personality is such that I fixate myself on certain things and get absorbed in complete tunnel vision.
Everyone talks about  enjoying your first ultra, I cherished every second of it. But I'm always hungry for that next thing. If you're going to set out on an adventure, why not pursue your potential?
The top of the climb finally came. Now the fun part – a 5 km descent to the finish!
I pictured myself hobbling down this final stretch with shredded quads, but surprisingly, my legs felt… decent.
I had some pep, so did Chris (we lost Matt on the climb, who just came off a 100 miler 3 weeks prior!), so we cruised down growling, hooting, and hollering our way to the finish.
We couldn't make up the time on the 2nd and 3rd placers – they finished 2 and 3.5 minutes ahead of us respectively.
They also apparently heard our yells, along with the everyone else at the finish.
So Chris and I crossed the line together in 4th with a time of 5 hours 33 minutes. It's certainly an adventure, and I loved every minute of it.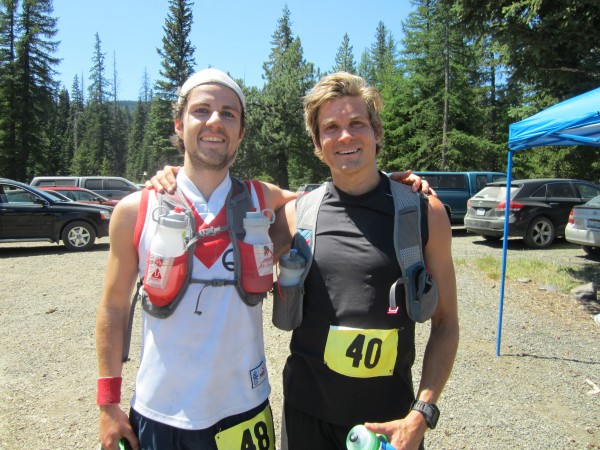 Purity
There's a certain purity I experienced on the trail, one I can't quite describe. The best description I can give is one of simplicity.
Everything slows and you're focused on one task: to finish. Step by step, climb by climb, you hone in on our innate sense of progress, of forward momentum until the job is done.
It sounds corny, but I was consumed by my surroundings, and it was a beautiful thing.
Conquering climbs, peaks, and mountains on your two feet brings an almost paleolithic (not the shitty diet) feel.
There's something primal about travelling long distances through the wild using your own two feet and I can't wait to keep exploring my potential.
Odds and Ends
I estimated eating about 1500 calories through the run consisting of 6 Honey Stinger Waffles (reminded me of stroop waffles from Belgium: delicious), two PB&J sandwiches, a bag of M&Ms, countless PB filled pretzels, a banana, tons of watermelon.
I also drank 6-7 bottles of water (refilled at aid stations) using my handy new Ultimate Direction hydration pack mixed with 6 Nuun electrolyte tabs through the day.
Finally, I'm grateful for all the support from you: I read every single message, Tweet, and word of encouragement – these are what got me through it.