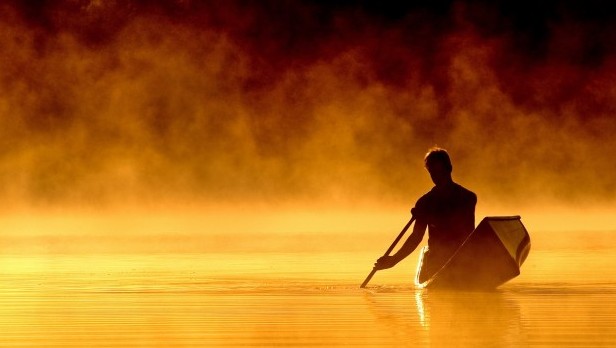 The saying that 'the journey is the reward' doesn't hold for marathon training. But, that is not to say that the journey is not a fulfilling process. Let me explain as I'm two weeks to marathon completion.
Marathon training over the past month certainly is a journey. Reward? Not sure about that one yet.
The fulfilling part is pushing my personal limits, both physically and mentally. You'd be surprised what thoughts creep into your mind three hours into a run.
Things from questioning my sanity for subjecting myself to this, to how fortunate I am in having the ability to run outside with such beautiful surroundings enter my thoughts.
The ultimate reward is accomplishment. Finishing my first marathon on a 42 day condensed training plan certainly is a nice feather in my cap.
Anticipating the finish continually cross my mind. As I've come to understand, your first marathon is about completing the 42 km slog.
It may sound a tad arrogant, but I already know I'll finish – I have no choice in the matter. My mind won't let me not finish.
If it were up to me, race day would be tomorrow. I'd finish the run, and plan out the next physical adventure.
Do you have any suggestions? I have a few in mind, but please leave a comment with yours.
Sore and Bewildered?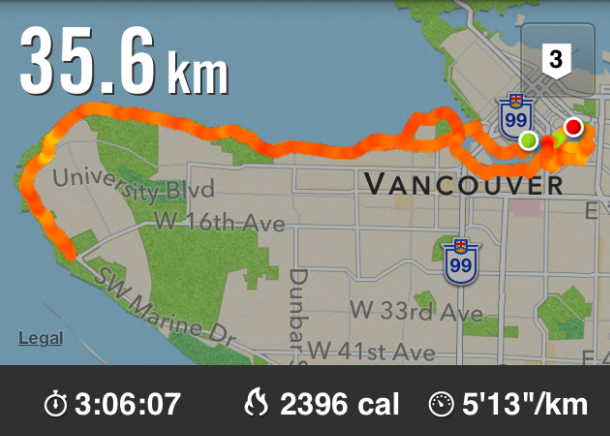 My legs go through weird cycles of fatigue and soreness. Through training for this thing, I've changed my running style a bit to accommodate the monotonous grind of 3+ hours on pavement. Don't you worry, I won't run barefoot or in Vibrams anytime soon.
The other interesting thing happened after the last long run. We set out on a brisk Sunday morning. Things went swimmingly aside from one hiccup at the end. We miscalculated the route, and 'finished' 6km short of the target (damn you google maps).
You can imagine the feeling: basking in the glow of accomplishment, only to find you are not done yet.
Cue the kick to the midsection.
Nonetheless, we tacked on the 6km to meet our milage… much to the chagrin of the wobbly legs and meandering minds telling us the contrary.
Walking home post-run felt like a dream. My mind wandered in this semi-conscious daze – my head was literally in the clouds.
Before you play doctor and chime in, I do realize this was a combo of fatigue, glycogen depletion, and low blood sugar. Nonetheless, I embraced the state.
The biggest takeaway from my meditation is how mindful you become throughout the rest of your endeavours.
Everything was so vivid, things literally slowed to a crawl.
Now with under two weeks to race day, most of the hard work is over. I guess it's time to enjoy the rest of the short journey.
Image cred: Wallpapers