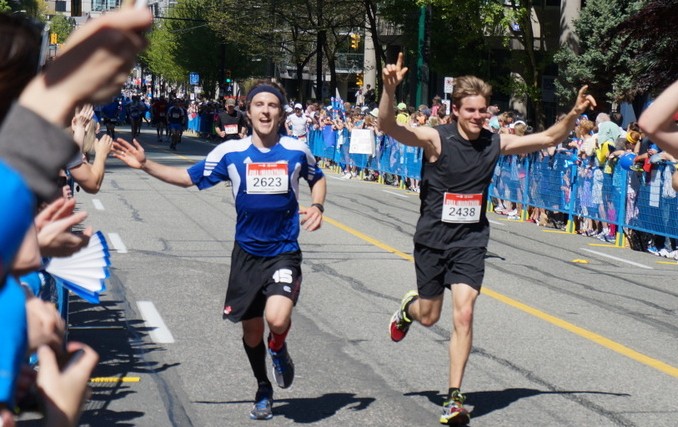 Despite my inability to walk afterward, the feeling of crossing that line and finishing my first marathon is difficult to put into words.
It's an adrenaline rush like no other. Everything slowed after crossing the line. Although I was a bit lightheaded and could barely walk, to finally enjoy that moment with the roaring crowd is thrilling.
Coasting on Emotions
After a day or so to reflect, I'm still blasted by a ton of emotions. Mainly I'm appreciative for having the ability to train and last through an entire 42 km's.
My body held up and for that I am fortunate because I know there are a ton of people out there who would kill for the ability to run without discomfort.
There's another rarely talked about feeling: gratitude.
I'm grateful for the amazing community of friends and family who supported me through the journey.
Also to my running buddy Chris. We embarked on this crazy idea 42 days before the 42 km onslaught, did every training run together, and crossed the finish line on Sunday together.
Whether a message, text, or tweet, these words of encouragement make a huge difference. I appreciate every single one of you.
Special shout out is in order for Andrew and Mike who rode their bikes alongside us for about 25 of the 42 kms. These guys are truly amazing human beings.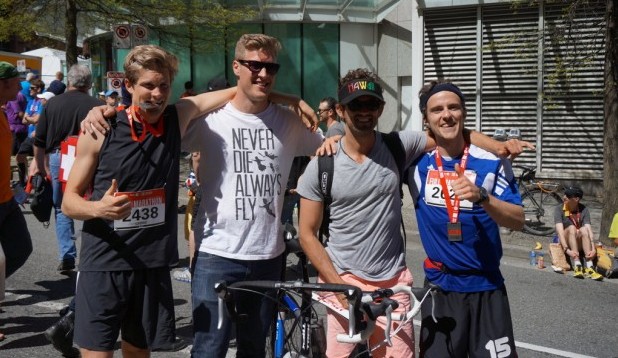 Beating a bongo drum and toting an ipod stereo, these two yelled and encouraged us the whole way, making jokes and entertaining other runners.
Off the bucket list?
People ask if this is a one-off accomplishment. My answer is probably not. While I realize this is quite a feat in and of itself, I want more.
I'm wired in such a way that I always crave the next thing. Call it ambition or stupidity, but the point is, I'll never settle for where I'm at now.
Toughest part?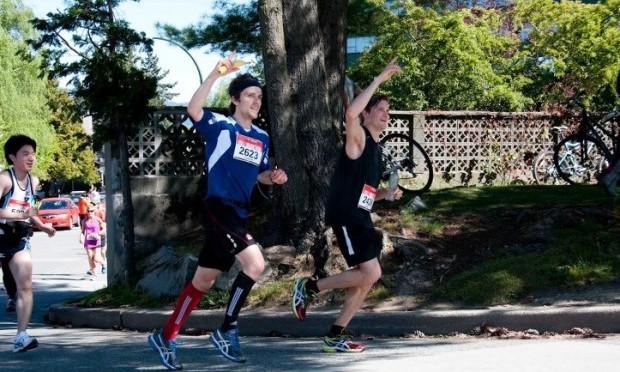 The downhills are brutal. My quads and hip flexors were completely shredded after a steep downhill at around 20 km –  this made for a painful later half.
But, the good thing about the Vancouver Marathon is the sheer volume of loud supporters through the second half of the course.
Winding through beaches along the rugged Vancouver coastline – locals cheer like crazy to everyone. It's the first time i've ran to the sounds of complete strangers cheering me on.
This is a pretty awesome feeling.
Is there really a wall you hit?
Yes. Things got "interesting" at around 37 km mark. It's like an ongoing one way argument between you and your body.
Your legs are literally screaming at you.
We ran past a handful of individuals who were on the pavement cramped up and keeled over in pain. Luckily there's a ton of aid people all around the course.
I felt awful for these people. I can't imagine going that far and having your ability to finish taken away from you.
The finish – High fives all around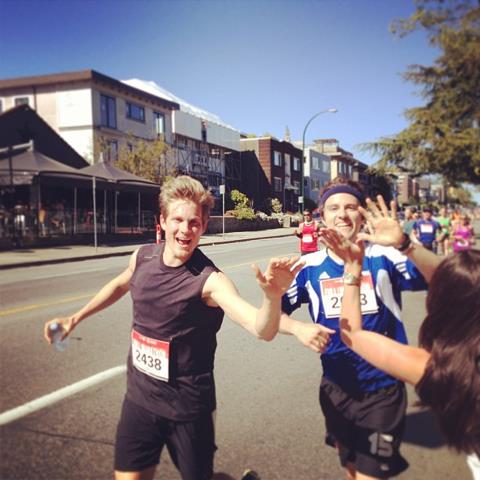 Circling the Vancouver seawall still about 3 km out, we could hear roars coming from the finish line. This is where a glimmer of optimism hits you.
The final few turns up Georgia st., you can finally see the massive crowd screaming and sign holding.
I got a nice boost from the crowd and proceeded to high five one side of the cheering section for the last 200m or so.
This is a moment I'll never forget: pure euphoria, nothing else.
The image of Chris and I finishing is one that'll forever be pasted in the back of my mind. 
If you're curious, we finished with a time of 3 hours 28 minutes. Not too shabby given the tight schedule me thinks!